Coal briquette press
Coal briquette press is a kind of machinery equipment to process natural coal powders and dust into solid blocks(we also call briquettes), which can be used in electricity plant, heating industry, energy field, metallurgical industry, transportation fileld, etc. The blocks/briquettes produced by briquette machines are environmental and energy-efficient, and also it is convinent for transportation, and therefore the utilization of wasted powder materials are increased highly for endusers.
Coal briquette press can process coal powders, lignite(wood coal) powders, gangue, fine coke, etc into pillow shape, oval shape briquettes. It is an advanced environmental friendly equpiment in 21st century.
Working principle
The electric motor gives the power to drive the driving shaft to rotate through the belt pulley and coupling. At the same time, the driven shaft also rotates against the driving shaft by the gear wheels. The rollers, which are set in the driving and driven shaftsm rotate synchronously. When the coal materials are fed into the machine and fall down to the place between the two rollers, all the coal powders will be forced into briquettes between the two squeezing rollers with the high pressure, which generates from the two rollers. While each two holes from the two rollers tough each other the pressure will reach to the peak value. As the two holes seperate and the pressure become less to zero. When the pressure come to zero, the briquettes fall down and come out of the machine.
Frame: There are four main parts, one is feeding materials part; the second is the transmission part, which includes motor, belt pulley, coupling, wheel gears and reducer; the third is the forming part, which includes the rollers; the forth is the discharging part.
Technical parameters & Models
| | | | | | | | |
| --- | --- | --- | --- | --- | --- | --- | --- |
| Model | Capacity | Motor power | Roller Dia. | Roller width | Max.pressure | Weight | Dimension |
| HSYQM-290 | 1-2t/h | 5.5kw | 290mm | 200mm | 6-8T | 0.85t | 1.8*1.35*1.85mm |
| HSYQM-360 | 2-4t/h | 7.5kw | 360mm | 240mm | 10-15T | 1.46t | 1.8*1.5*1.8mm |
| HSYQM-400 | 4-6t/h | 15kw | 400mm | 240mm | 10-15T | 1.65t | 2.1*1.5*1.9mm |
| HSYQM-500 | 6-8t/h | 22kw | 500mm | 240mm | 30T | 4.8t | 3*2.2*2.6mm |
| HSYQM-600 | 10-12t/h | 30kw | 650mm | 375mm | 30T | 7.5t | 3*2.5*2.1mm |
| HSYQM-650 | 10-12t/h | 37kw | 650mm | 300mm | 40T | 7.5t | 3*2.5*2.1mm |
| HSYQM-750 | 15t/h | 45kw | 750mm | 370mm | 50T | 9.8t | 3*2.5*2.1mm |
| HSYQM-850 | 18-20t/h | 55kw | 850mm | 350mm | 80T | 13t | 3*2.8*2.5mm |
PS: The capacity data is calculated according to coal materials, customers can take this as reference while you process materials.

Finished briquettes
The shapes of briquettes can be oval, goose egg, square, bread, pillow, cylinder shapes, etc. You also can have your own named expected shapes, we will make the special ones for your needs.
The sizes of briquettes are commonly 30mm, 40mm, 50mm. For special sizes, we also can design that for you.
Applications of briquettes are for coal, charcoal, refractory materials, metallurgy, construction materials, ceremics, and so on.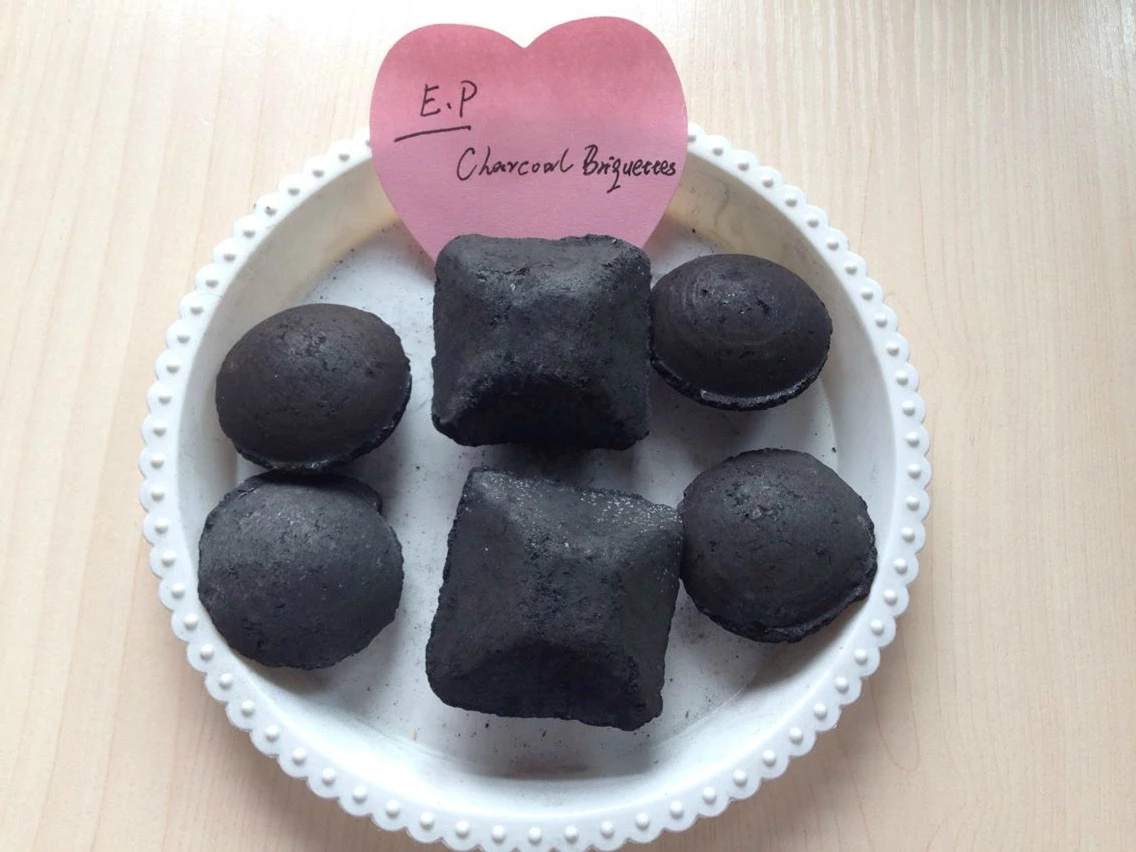 Maintenance
1. Add oil for the bearings in the machine regularly every 3-7 days.
2. Add lubricating oil for the gear reducer each half year. It depends on your machine situation.
3. Check All the Parts Every Three Months.
Because the machine runs in the dust fly powders environment, so except the wearing parts, like rollers and bearing, so it is quite necessary for users to check the rest parts that we could not easily find and check in our daily work.
TIPS: We advise that you can take some aparts of the machine while you are checking.
Operation cautions
A. Before loading
1)Check all the screw are fully tightened or not.
2)Check all the oil is eough for gear reducer, bearings, feeder, etc or not.
3)Check the V-belt tight or not.
4 )Ajust the hydraulic pressure.
5)Adjust the belt pulley and drive the rollers to move to check there is something else in the hopper and rollers.
B. During loading
1)Check and encusre no raw materials in the machine
How to start the machine? (1. main motor, 2. screw device, 3. hydraulic device, 4. feed materials)
2)Check the electricity current is normal or not.
3)Check the oil pressure is normal or not.
4)Ensure no hard materials, like iron things.
Service
1. 24 Hours online technical supporting.
2. We take pictures and videos for customers to know the details and production status at any time.
3. For installation, we can send our drawing and engineers to customers' place for guiding installation.
4. We can test your materials by our machines to see the results.
Generally speaking, this coal briquette machine is mainly for processing such kind of materials which can be easily formed into briquettes, like coal powders, charcoal powders, coke powders, wood coal, lignite powders, carbon black dust, etc. We also can call it mechanical pressure type ball briquette press.
Welcome clients from all over the world to visit and cooperate with us.